E-commerce is a multi-faceted industry that requires a place to store, package, and ship inventory. A business owner that is first starting in the e-commerce space might use their own home office or garage as a makeshift setup to fulfill online orders on their own. However, as they begin to outgrow their space, the need to outsource fulfillment to a third-party logistics partner is often necessary.
The use of "warehouse" and "fulfillment center" is often used interchangeably. Both essential to order fulfillment, the buildings share similar functions and the physical differences between the two are slight. However, when it comes to comparing fulfillment center vs. warehousing benefits, it's important to remember they are not the same. 
Each type of facility differs concerning utilization and the goals of its operations and fulfillment services. Reviewing the definitions of each and comparing the capabilities and benefits side-by-side will better clarify just how different these two terms really are.
What is a Warehouse?
A warehouse is a large, spacious building where finished goods are stored until redistribution to the consignee (retailers, wholesalers, distribution centers). A warehouse space typically ranges from 10,000 square feet to 100,000 square feet, and are an integral part of supply chain management. 
The shape, size, and function of a warehouse are, in part, determined by the type of inventory that it is meant to house. In general, there are six different types of warehouses.
Types of Warehouses:
Private Warehouse

– A warehouse, or network of warehouses owned by one organization and used in support of that organization's supply chain.

Public Warehouse

– Public warehouses are typically sub-leased to retailers in need of extra inventory space.

Automated Warehouse

– An automated warehouse utilizes technology, robotics, and even some forms of AI (artificial intelligence) to automate their processes and minimize the number of full-time employees required to conduct operations.

Climate-Controlled Warehouse

– A climate-controlled warehouse is designed to house refrigerated, frozen and temperature sensitive inventory.

On-demand Warehouse

– The function of

on-demand warehousing

is to provide short-term storage, transportation, and inventory management for retailers on a month-to-month basis.

Distribution Center

– In terms of fulfillment center vs. distribution center, the two are interchangeable. A distribution/fulfillment center is a type of warehouse.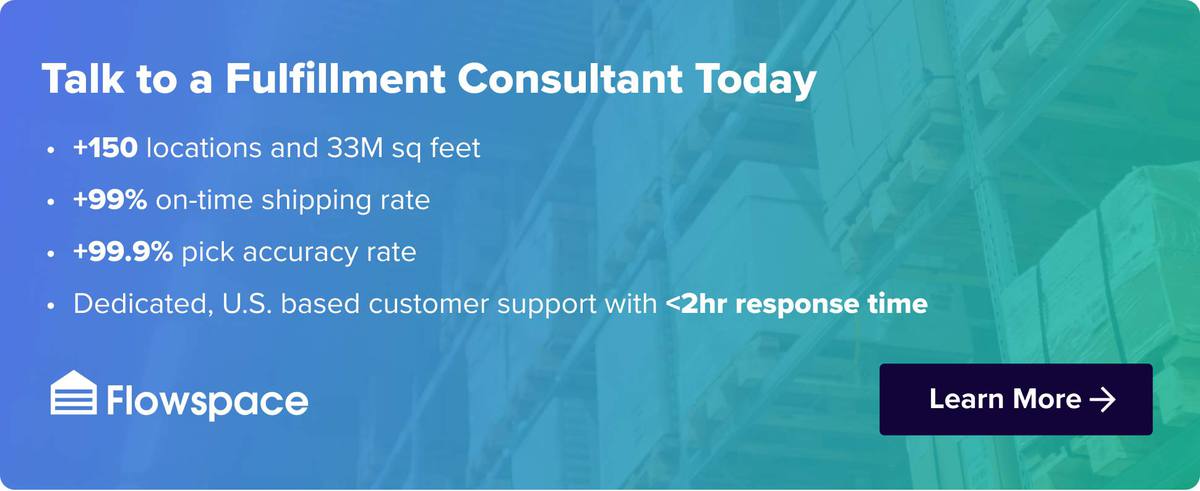 What is a Fulfillment Center?
A fulfillment center is a physical space where operations are set up to consistently receive inventory and packages and deliver customer orders, on-time and intact. Sometimes referred to as a distribution center (DC), a fulfillment center is a building in which retailers, and similar organizations, store their inventory until distribution to the customer. 
Unlike a warehouse, a fulfillment center is typically operated by a third-party logistics provider (3PL) that provides inventory storage and a host of other operational functions, including freight transportation, handling cross-docking, customer service, and most importantly, order fulfillment. When it comes to choosing fulfillment center vs. warehouse options, a fulfillment center offers far more capabilities to help ecommerce companies succeed.
How Do Fulfillment Centers Work?
Generally speaking, fulfillment centers serve B2C brands. Products are stored, picked, packed and shipped directly from a fulfillment center and sent straight to a customer's front door. The tasks and time involved to pick, pack, and ship complete orders, as well as manage accounting, sales, and other operational functions, can quickly take up more hours than there are in a day. 
At this point, B2C brands often enlist the help of a fulfillment center as they scale their e-commerce business. A fulfillment provider handles all fulfillment activities in one place so brands can focus on managing sales, customer service and company growth. Fulfillment center services include:
Real-time inventory management

Picking, kitting, and packing

Order processing and fulfillment

Transportation coordination
Real-Time Inventory Management
When a brand places orders from their manufacturers, that inventory is sent to the brand's order fulfillment center to sort and store. The goal is to maintain a steady cycle of sales and inventory replenishment to prevent stock from going stale on the storage shelves. This is achieved through real-time inventory management and tracking, as well as predictive analysis during the ebbs and flows of a sales season. This type of data provides insights for retailers to make operational decisions that will optimize their supply chain costs and efforts.
Picking, Kitting, and Packing
Once a seller receives an order from a customer, those working in a fulfillment center will pick and package the items within the order. To build efficiency throughout the order fulfillment process, many providers will offer kitting as an additional service. Kitting is the process of grouping and packaging multiple products as one single unit. By taking the individual items and bundling them as a kit, businesses can boost efficiencies, while also trimming the overall cost of shipping. A good example of kitting is beauty subscription boxes that bundle related products from different manufacturers into a single package to sell on a monthly, quarterly, or annual basis.
Order Fulfillment
The role of a fulfillment center is to do just that — fulfill orders as quickly as possible to then ship out to the end customer. Fulfillment centers are typically fast-paced environments with people processing, packaging, and shipping orders directly to consumers. 
To manage the constant inbound and outbound shipment of products, fulfillment centers usually integrate advanced technology to manage and improve workflows, from receiving and processing orders to inventory management and carrier pickup. Flowspace offers e-commerce fulfillment services and software that seamlessly integrate with brands' online stores and sales channels. The Flowspace software provides visibility into orders, inventory, and customer insights all in one place. It allows businesses to strategically plan for inventory replenishments, predict sales trends, and keep the fulfillment process running as smoothly as possible.
Transportation Coordination
After picking and packing an order, fulfillment centers then ship the product(s) directly to the customer or end-user. From the moment the package leaves the fulfillment center, order tracking is enabled to ensure full visibility for both the customer expecting the package and the e-commerce business selling the product.
What's the Difference? Fulfillment Center vs. Warehouse
The structure and purpose of a fulfillment center seems similar to that of a warehouse, however the two are in fact different. So, how does a fulfillment center work compared to a warehouse operation? While aesthetically, they may look the same, there are several differences between how they operate and what they're used for. 
A warehouse is typically used as a large industrial storage center for businesses that need to house large quantities of inventory. Merchants can best utilize warehousing solutions to store inventory in bulk for an extended period of time. Whereas some businesses may have their own private warehouse operation, many industrial warehouse spaces are designed to be multi-tenant, or occupied by many different merchants in need of a place to store excess inventory. 
While a warehouse space is meant to accommodate inventory storage for an extended amount of time, a fulfillment center typically serves as a short-term storage solution with the goal being that sellers can turn over inventory very quickly. As opposed to letting products occupy space on warehouse shelves for months on end, fulfillment centers are characterized by frequent activity of shipments entering and leaving the facilities every day to be ultimately delivered to the hands of the consumer, the final destination. This is in fact the main goal of a fulfillment center — to get customers' orders fulfilled and shipped out in a timely manner.
Sometimes, a warehouse also serves as a fulfillment center, providing both long-term storage and near-term fulfillment capabilities. Therefore, a fulfillment center is a type of warehouse, but a warehouse isn't always a fulfillment center. The most significant differences are the extent of the operations carried out within and the customers they are intended to serve.
Customers
Warehouse operations generally serve B2B customers. Fulfillment centers are most often designed to service direct-to-consumer and online orders, otherwise known as ecommerce business and B2C. Some fulfillment centers also serve both types of customers, fulfilling both retail and ecommerce orders for brands.
Operations
Inventory ships in and out of a warehouse on a shipping pallet container. Thus, most of the logistics operations at warehouses concern a freight carrier or even an intermodal provider. Inbound inventory shipments arrive palletized at fulfillment centers, but they ship out as parcel-sized shipments.
An online retailer can then ship products to customers across the country and around the world because they utilize a distribution network of fulfillment centers and delivery stations. This is how an ecommerce giant like Amazon can provide same-day delivery; they've nailed their order fulfillment process. Before Amazon built out its logistics network, most people never would have imagined that an online order could show up on their porch in two days or less. 
Fulfillment centers most often store inventory for a minimal amount of time, focused on picking and packing products to fill ecommerce orders, and shipping those orders directly to the customer.
Goals
The goal of a warehouse is the safe and efficient long-term storage of inventory, typically several months to a year. They are generally limited to housing no more than a handful of different inventories for an extended period.
The goal of a fulfillment center, on the other hand, is order processing in the least amount of time possible. Most fulfillment centers are not designed to store inventory for more than a few months; they are very practical and streamlined in their fulfillment solutions. 
Thus, it is possible for a fulfillment center to manage the operations of many ecommerce retailers and businesses. When comparing fulfillment center vs. warehouse logistics, the two are very similar and can be easily confused. The best way to remember the difference is to consider geometry class. Comparing a fulfillment center to a warehouse is like comparing squares and rectangles. All squares are rectangles, but all rectangles are not squares.
Storage
Since warehouses are often used to store a large quantity of inventory long-term, products are usually not immediately accessible. Warehouses are often used to store an inventory surplus or products only sold seasonally, whereas fulfillment centers are used for short-term storage since the purpose is to move inventory in and out in a consistent flow. Stock stored too long accrues more cost and usually means there's a discrepancy in the ordering and fulfillment process.
Pickups
With fulfillment center operations, there's a regular flow of inventory that begins once orders are placed. Therefore, shipping companies must have a greater frequency of pickups to secure on-time delivery to customers.
Certain shipping companies may designate specific days and times for pickups, while others may schedule pickups daily. It all depends on what the seller needs and what kind of shipments are being delivered. The flexibility and versatility of delivery options ensure customers receive their goods in the time frame promised by the business.
Conversely, because a warehouse is mainly used for long-term storage, pickups are scheduled less frequently and offer less flexibility when it comes to shipping solutions for sellers and customers. Though it can be cost-effective when shipping multiple items to one address with the same targeted delivery date (versus multiple, smaller shipments), it often doesn't fulfill the needs of speedy shipping to any location.
Which Solution Is Right for Your Business Needs?
As a business owner, it's important to make the right decisions for your company. Choosing the right solution between a fulfillment center vs. a traditional warehouse boils down to an ability to reach a wider customer base with full operational integration to maintain customer satisfaction. Unless simply storing goods for a long period of time is the goal, the comprehensive services of a fulfillment center are more valuable. 
Companies that decide to take fulfillment "in-house," meaning operating their own fulfillment centers, often limit their capabilities. When relying on only one or two owned fulfillment centers, the company is stuck with those locations and can't always optimize for fast and/or affordable shipping, which can ultimately damage the customer experience. Instead, brands need the flexibility and scalability of a distributed network like Flowspace, which uses a unique Network Optimization algorithm to determine the optimal fulfillment centers for every brand within its network of 150+ locations.
To meet the evolving needs of customers and to maintain their satisfaction, the ability to pivot quickly and adjust based on current expectations is increasingly important. Customers want the convenience of speedy shipments, without added costs. A warehouse alone doesn't have the capabilities to deliver fast, flexible fulfillment in a sustainable way.
The Importance of a Fulfillment Center for E-Commerce Brands
There are several reasons why an e-commerce business needs a fulfillment provider. Primarily, a fulfillment center allows brands to delegate their supply chain operations. This frees up time and resources to focus on other areas of business growth, such as marketing, accounting, and product research and development. 
Fulfillment centers and services also provide brands with flexibility to meet the demands of different sales seasons, as well as a robust network that helps them to reduce shipping costs. A fulfillment center is an important aspect of inventory management, and allows for implementation of a consistent pick, pack, and ship process, and integrated tracking systems. As a brand grows, it's inevitable that they'll explore fulfillment centers and specific fulfillment solutions to further optimize organization and workflow efficiency. 
Maintain Reliable Inventory Management
It's important to know how much inventory is in stock and being sold in real-time. This triggers actions, such as scheduling replenishment orders. It also prevents out-of-stock messages to customers and helps businesses maintain an accurate sales forecast. With Flowspace, orders are picked as soon as they're placed, and the connected platform updates inventory status across e-commerce channels to ensure the most up-to-date numbers are available. 
Implement a Pick, Pack, and Ship Process
An omnichannel fulfillment strategy is important when selling through multiple channels, and with Flowspace, all storefronts, marketplaces, and sales channels are connected within one platform. Flowspace picks, packs, and ships the customer order exactly to brand specifications, no matter where or how the order originated. Special packaging or shipping requirements, like kitting and bundling, are included as part of the fulfillment service. 
This process is effective in all situations, whether it's shipping individual orders to consumers, bulk orders to retailers, or kitting and bundling. Each order is checked with a packing slip before it's taped up and scheduled for pick-up to ensure accuracy and promote on-time arrival. Working with Flowspace ensures this consistent, high level of quality is met every time.
When to Partner with a Fulfillment Center
As an e-commerce business grows, partnering with a fulfillment center makes sense both logistically and financially. When your sales volume has reached a steady growth state month-over-month, optimizing the process by working with a logistics partner can help you scale your business even further. Additionally, the expertise and built-in processes of a fulfillment partner can handle trending or seasonal spikes in sales without slowing down operations.
If there never seems to be enough time in the day and quality and/or customer satisfaction starts to decline, it's likely time to hand over the logistics part of your business to experts. Delegating fulfillment to a team that's already well-versed in the process leaves time for you to focus on other areas as a business owner. 
It's important to be selective about the fulfillment center you partner with to ensure you optimize the process effectively. The Flowspace network includes hundreds of fulfillment centers distributed across the country, and the Network Optimization algorithm will determine the best fulfillment centers to fulfill inventory closest to your customers, leading to on-time delivery and lower shipping costs.
The Flowspace platform also provides valuable customer insights and inventory planning, among other benefits, to help you scale your business effectively. Furthermore, with seamless integration with a wide range of storefronts, marketplaces and retail stores, Flowspace can connect all your sales channels into one platform. It's flexible, reliable, and easy to use for brands of all sizes.
Plan for Growth with Fulfillment Services from Flowspace
There is a lot happening within the walls of a fulfillment center. The steady buzz of activity allows brands to be agile as the business grows. For e-commerce retailers that have a large inventory of products and a growing customer base, exploring this option is important and worth discussing even in the early stages of development. 
Rather than waiting until the number of orders is so large and overwhelming to contain, planning for growth strategically with a fulfillment company ensures you have a vetted source in place and ready to go when the time arises. However, if you're in a position where you need a solution right away, Flowspace can step in and fill the gaps necessary to keep your fulfillment operation running smoothly and reach your business goals.
Whatever stage of business you're in, Flowspace is ready to figure out fulfillment solutions with you. Get in touch today!