OmniFlow Software
Orchestrate and optimize fulfillment from anywhere with a suite of tools purpose-built for the modern commerce brand.
Operating your own warehouses? Working with multiple 3PLs? Struggling to manage multiple logins or view inventory and orders across channels? No problem. OmniFlow software gives you the centralized, omnichannel visibility and reporting necessary to manage fulfillment from anywhere. You can use all of the tools together or access just what you need.
Order Management
Easily connect to sales channels, including EDI, and leverage automated rules to optimize order routing and fulfillment.

Learn More About OrderFlow
ERP

Purpose-built for the supply chain to track the entire life cycle of transactions and manage costs.
Network Design

Reduce transit times and costs by planning the optimal network. Optimize your own facilities, or leverage our network of +150 warehouses nationwide.
Learn More About NetworkFlow
Visibility Suite

Real-time, cross-channel order and inventory visibility. Reduce customer support times by tracking fulfillment to delivery and flagging exceptions.
Learn More About Visibility Suite
Warehouse Management System

An easy-to-use WMS to optimize fulfillment locations, with controls to manage inbounding, outbounding and inventory across your entire network.
Learn More About WMS
Order Management
Sell where your customers are shopping, and unify those orders, across unlimited channels, in one single view.
Real-time view into your customer and inventory, across channels

Countless integrations supporting online and in-store fulfillment, DTC and B2B

Quick implementation, easy to use
Learn More About OrderFlow
Inventory Management
Determine inventory levels with confidence.
Flowspace provides real-time insights and demand forecasting recommendations to help you make smarter inventory management and allocation decisions.
Ensure the optimal stock level to fulfill customer demand, without wasting resources on excess inventory.

Avoid out-of-stocks with actionable inventory data that helps you make informed allocation decisions.
Meet customer service level expectations for instant product availability and delivery information.
Learn More About InventoryFlow
Network Design
Reduce transit times and costs with an optimized network.
With a flexible network of more than 150 fulfillment centers Flowspace will determine the optimal locations that enable you to offer consistently fast, efficient delivery to your customers.
Speed up shipping times

Lower transportation costs

Reduce carbon footprint
Learn More About NetworkFlow
Insights + Analytics
Unlock at-a-glance insights, reporting, and visualization

Monitor the health of your fulfillment operation

Centralized dashboard delivers key operational metrics

Customer intelligence insights impact optimization across your business

Learn More About Insights + Analytics
Visibility Suite
85% of shoppers wouldn't shop with a retailer again after having had a poor online delivery experience. Delivering an ideal customer experience is crucial to success.
Don't fly blind – track your open orders across delivery stages with Flowspace.
Visibility Suite gives you cross-channel order and inventory visibility, from the moment an order is placed through delivery to the end consumer.
Monitor SLA performance across multiple fulfillment partners

Be alerted to delays and late orders

Reduce "WIMO?" inquiries
Learn More About Visibility Suite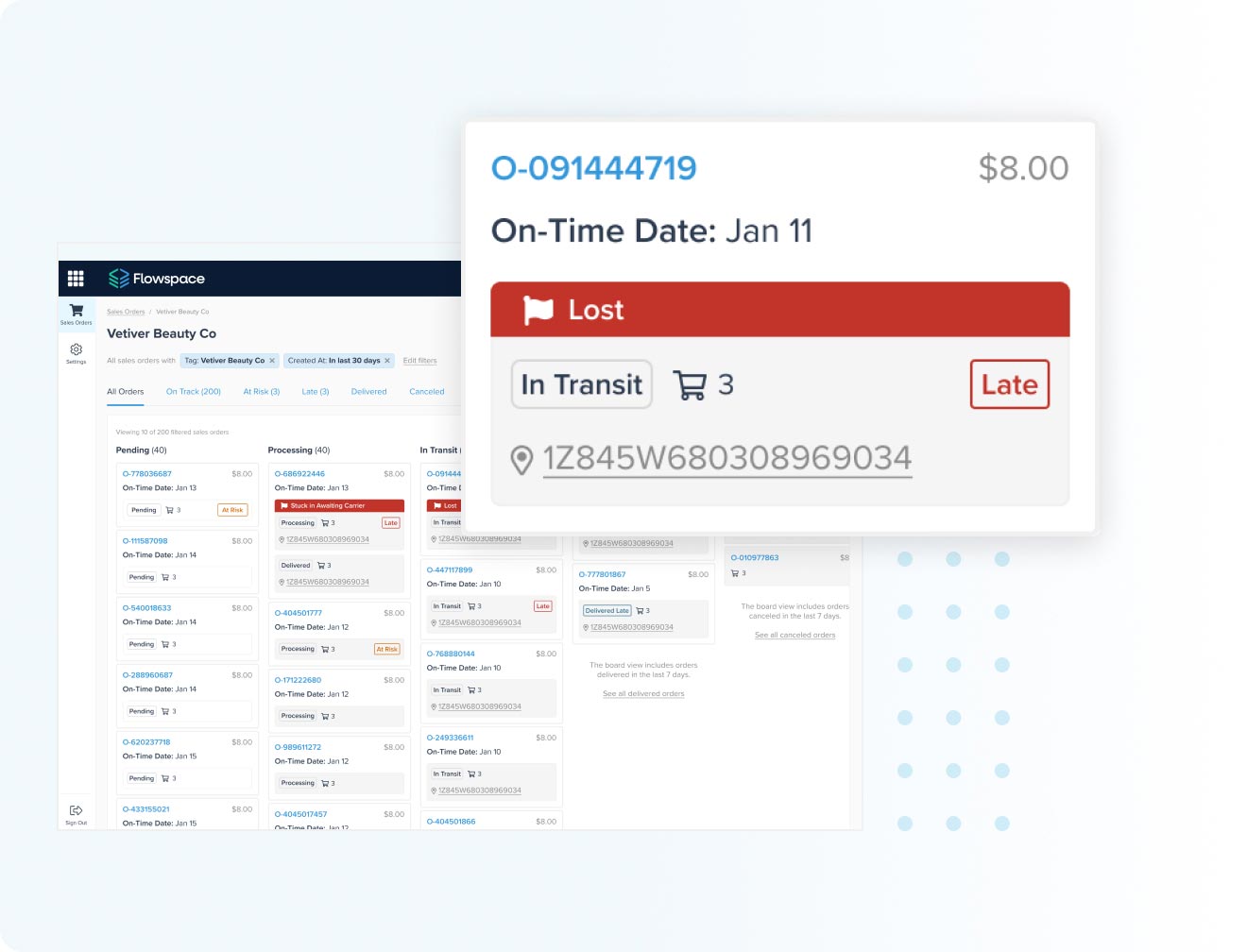 Warehouse Management System
Need to run your ecommerce warehouse more efficiently?
Facilitate national fulfillment operations on one platform with the Flowspace Warehouse Management System (WMS).
Orchestrate inbounding, outbounding, and inventory control across network locations

Fulfill orders from any sales channel

Swift location setup and implementation

Simple, scalable software with no order limits

Learn More About WMS
OmniFlow + Fulfillment Software FAQ's
What Is Fulfillment Software?
OmniFlow software powers fulfillment operations and insights across a company's network of fulfillment locations, warehouses, and retail stores.
Fulfillment software centralizes inventory, orders, and fulfillment activity, across channels and locations, in a single dashboard, providing the real-time visibility and insights needed to scale an omnichannel business.
Flowspace fulfillment software stakeholders across the supply chain access to the predictive insights and data needed to anticipate consumer and market demands to ensure that end customers receive orders as quickly and efficiently as possible, no matter the order source. 
OmniFlow software streamlines everything from warehouse inventory management, to picking and packing, to shipping and tracking sales from all order sources.
What Are The Benefits of Fulfillment Software?
Fulfillment software provides a layer of visibility and control over inventory, orders and fulfillment services and activity, across sales channels and customer touchpoints.
OmniFlow ecommerce fulfillment software enables you to track sales orders across delivery stages, and empowers customer service teams to know what's happening with the shipping and order fulfillment process before customers ever have to ask.
Access at a glance the health of your fulfillment process, including service-level agreements for performance across multiple fulfillment partners, with increased visibility to warehouse and fulfillment center operations. 
Stay alerted to delays and later orders, reducing customer service inquiries and increasing customer satisfaction by fixing issues before they impact the buyer.
How Can Fulfillment Technology Power Brand Scale?
Fulfillment technology maximizes efficiencies and optimization across a supply chain and throughout an organization.
OmniFlow fulfillment software offers integrations and customizable capabilities to support major retail partners, ecommerce shopping carts and storefronts, and third-party retail marketplaces.
Flowspace's next-generation fulfillment technology goes beyond shipping and carrier tracking to give teams the data and insight needed to assure that in-transit details and delivery confirmations are accurate, and information is available at-a-glance.
The agility of the Flowspace platform allows brands to maintain the ecommerce customer data and pipeline they've worked hard to build, with the ability to seamlessly scale their fulfillment networks to encompass new channels as their needs evolve.
Flowspace technology also powers a warehouse management system(WMS) used by warehouse operators to automate and unify order fulfillment processes and warehouse inventory levels across multiple fulfillment locations. The best use of fulfillment technology is to determine which software features are needed for your unique business needs.
Will Fulfillment Software Integrate With My Systems?
To get the most out of your fulfillment software, it is important that it can fully integrate with all storefronts, shopping carts, marketplaces, retail channels and other ecommerce sales channels. 
The open platform offers integrations with every major ecommerce storefront, shopping cart, retail store, and sales channel. Flowspace also connects with major third-party marketplaces including Amazon and Walmart, and access to enterprise marketplace platform operators like Mirakl and the 300+ retail marketplaces it powers that unlock new sales channels for brands.
Online store integration within the software creates a seamless order management process, reducing manual work and human error while optimizing order processing speeds.
How Do You Choose The Right Technology?
To determine the right software solution for your business, you need to determine the level of service and automation you are looking for and identify any unique needs within your existing fulfillment process. 
Fulfillment software should integrate with all business systems and processes to ensure streamlined fulfillment operations. Brands should seek out a software vendor that offers real-time visibility and control over fulfillment software operations.