Sustainability Service of the Year
The further a product has to travel to a consumer, the more pollution is created. While carbon emissions from online shopping are 36% lower than those produced by in-person retailer trips, storage, trucking and customer delivery still takes a toll on the environment.
Flowspace's Network Optimization was named 2021 Sustainability Service of the Year by Business Intelligence Group for its ability to reduce shipping distance and the carbon footprint that goes along with it, while accelerating delivery of goods to a consumer's door.
Modernize your supply chain through data
Brands need multiple, distributed fulfillment locations in order to enable the one- and two-day shipping costumers expect, affordably. 
The Flowspace Network Optimization algorithm identifies the optimal warehouse fulfillment centers across the country so brands can provide the fastest, most cost-efficient shipping to their customers.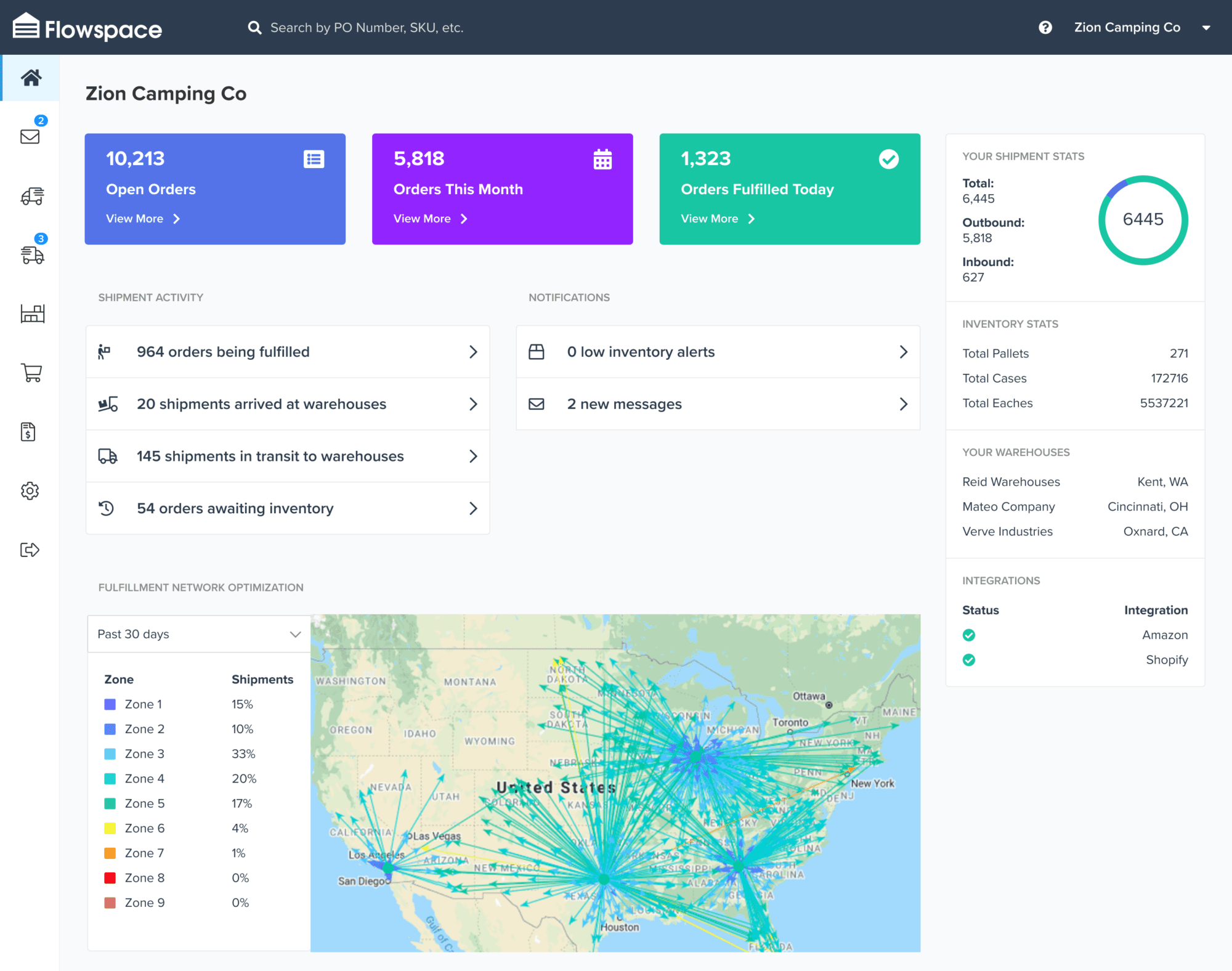 Quick implementation
Flowspace can identify the optimal locations for order fulfillment centers in moments, and help you execute on recommendations almost immediately.
Instant estimates
Run simulations to model costs and variations across your supply chain to better manage inventory levels.
Visibility and insights
The Flowspace platform offers a unified dashboard with a transparent view of omnichannel order fulfillment services, streamlining inventory management.
One partner, one platform
Flowspace manages all relationships with fulfillment centers, streamlining communication and reducing complications.
Fulfillment Capabilities
Flowspace is equipped to handle any and all fulfillment operation demands, with a variety of logistics network specialties.
Amazon FBA Prep
Container Unloading & Cross-Docking
Direct to Customer Orders
Ecommerce Fulfillment
FDA Registered
GFSI Certified
Item Labeling
Kitting Projects
Pick, Pack, & Ship
Retail Fulfillment
Warehouse Shipping
Wholesale Carton Pick
The Flowspace network has enabled us to get orders to our customers around the country quickly and affordably. They provide a level of service that is unmatched in the industry
Mike Gilberg, Logistics Manager, Lifeaid
Read Success Story
Onboarding with Flowspace has been flawless and easy. Over the years I've been through quite a few 3PL's and this experience has been the best by far.
Torrie May, Director of Operations, Brio Product Group
Read Success Story