A Best Practice Guide to Understanding Kitting Fulfillment and How to Apply it to your eCommerce Business.
We put together this guide to help you better understand kitting fulfillment services, best practices, and how it applies to your supply chain management. This guide will also explain why using a fulfillment partner like Flowspace is the best choice for warehousing and fulfillment services.
What is Kitting Fulfillment?
Though kitting is a common service offered by many 3PL logistics companies, few people outside of the eCommerce fulfillment industry have heard of it. Like pick-pack, warehousing, and shipping services, it is an essential part of any eCommerce fulfillment service. Learn more by reading our beginner's guide to ecommerce fulfillment.
Kitting definition is simply defined as a service that combines various single items into one unit for sale, such as subscription boxes of various items. It is an extremely useful eCommerce merchandising tool because it enables e-retailers to do more with the items in their inventory.
Let's dive deeper into kitting fulfillment to discover if it will benefit your business.
Why Use Product Kitting Services for eCommerce?
Merchandise fulfillment kitting allows you to put more merchandise on the market – instead of selling items by the piece, an eCommerce store can bundle similar items together to create sets, offer special deals, and cross-sell promotions.
By combining existing items in your inventory, kitting fulfillment actually extends your inventory without adding to your storage costs.
Is Kitting Right for Your Business?
Kitting fulfillment services provide many benefits such as a reduced number of purchase orders, reduced administration costs, better utilization of space, faster production cycles, faster response to customer orders, and more, including:
Faster Assembly Services
Fewer Shipping Mistakes
Better Packaging
Kitting services will benefit your business if you offer combination packs, sell ready to assemble items, or must maintain high standards and quality control measures to ensure all components of a kit appear in every order.
If you handle order fulfillment yourself, or have limited space for large projects, using a third-party fulfillment service like Flowspace is a winning strategy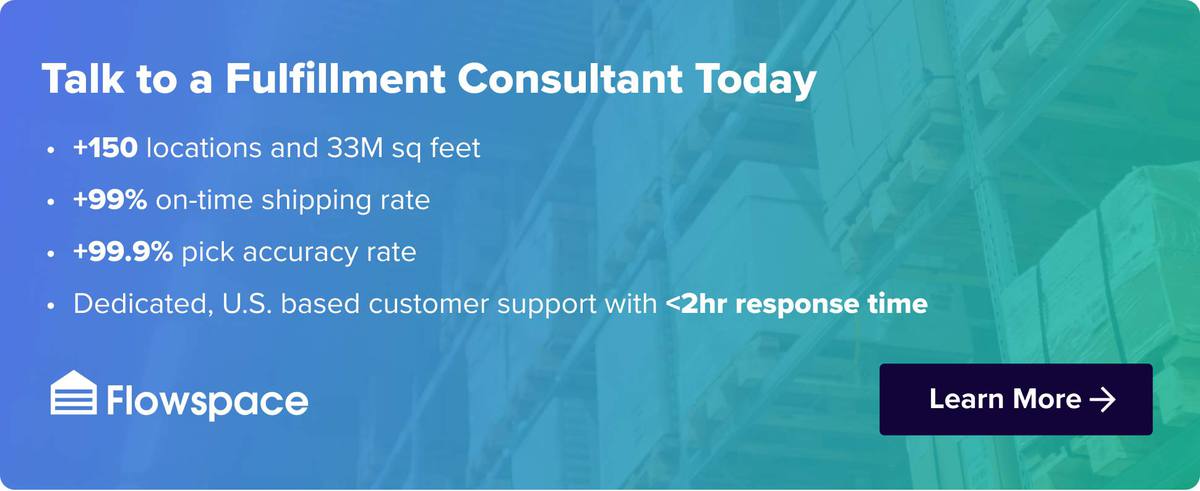 Types of eCommerce Product Kitting
Kitting fulfillment makes it easier to manage different eCommerce items and business models. In the context of a larger production kitting process, fulfillment services typically include:
Storage – A 3PL manages and stores the manufacturer's parts.
Kitting – Once parts have been ordered, a 3PL will pick the requested parts from inventory and combine them into designated kits.
Packaging and Distribution – The 3PL packages the final product as designated by the retailer and delivers the kit to the consumer.
Subscription Boxes
Subscription boxes are one of the most common forms of kitted merchandise. Third party platforms can help you run your subscription box service more efficiently, and convert one-time customers into subscribers who generate monthly revenue for your business.
Assembled Products
Kitting is widely used with assembled products and considered an invaluable part of the fulfillment process. It enables eCommerce stores to offer more options to the consumer. The parts for any built-to-order product kits can be kept in inventory and assembled in different configurations to provide the customer with more choices.
Packed-to-Order Sets
Packed-to-order sets enable eCommerce stores to offer the consumer choices in set quantities, colors, and product mix. Online stores that provide kitting and bundling of products provide a larger variety of options for the customer to buy.
How to Manage Kitting
The key to fulfillment success is proper inventory management. Online stores can't sell a full kit if a single part of the kit is not in inventory. Inventory management systems can enable an eCommerce store to track items, but few e-retailers have the need for expensive software, or the means to conduct fulfillment in-house.
For this reason, the majority of eCommerce stores outsource kitting fulfillment to a 3PL fulfillment service like Flowspace. If you're looking for fulfillment services, Flowspace can help. We provide flexible warehouse solutions, fulfillment operations, inventory management, and other third-party logistics roles.
Flowspace has a network of certified warehouses specialized in assembling special kitting projects..We'll stock, store, pre-pack your kits, then ship everything as a batch project, which leaves you free to manage your business, and sell more kits.
Choose Flowspace for Warehousing and Fulfillment
We offer our warehousing and fulfillment services with no surprise fees or confusing charges. Flowspace not only integrates with your existing platforms, we also enable you to manage all of your inventory in one location.
Flowspace offers a free inventory system with a modern, user-friendly interface that makes managing the flow of your goods as easy as a single click. All it takes is a few simple steps to see the best warehouse storage and fulfillment services in your area. When you have a creative product that needs assembly, Flowspace knows what it takes to make sure it's assembled correctly and shipped on time, every time. Contact us today!