Flowspace is thrilled to be named "Order Fulfillment Solution of the Year" in the 2023 SupplyTech Breakthrough Awards, recognized for its ability to power best-in-class fulfillment for hundreds of omnichannel brands.
Efficient, seamless order fulfillment can be the make or break between success and failure for modern brands, who must meet ever-rising consumer expectations for convenient, efficient delivery. Merchants trust Flowspace to provide the sophisticated software, top-notch service, and strict SLA adherence that ensures customer satisfaction.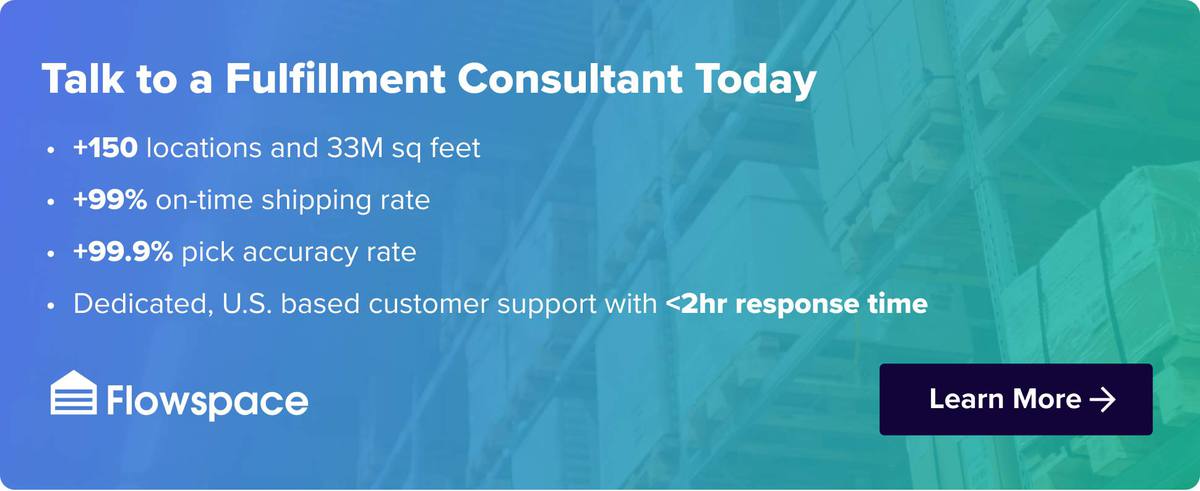 Brands leverage Flowspace's leading-edge OmniFlow software and its expansive nationwide network to orchestrate and optimize fulfillment across multiple locations, from any sales channel to any end customer.
As a standalone software, OmniFlow offers retailers operating any network configuration, including their own facilities, with the centralized, omnichannel visibility and reporting necessary to manage fulfillment from anywhere. 
Flowspace's flexible, distributed network seamlessly expands or enhances a brand's existing network, while ensuring best-in-class fulfillment execution. Dynamic network design automatically identifies efficiencies and optimizations for a merchant and its customers, taking existing configurations into account.
Across the network, Flowspace adheres to strict SLAs and has a +99% on-time shipping rate as well as a +99.9% pick accuracy rate.
Flowspace's Network Design capabilities also contribute towards sustainability in the supply chain. By identifying optimal fulfillment centers closest to a brand's consumers, Flowspace helps reduce delivery times and the accompanying carbon emissions. Flowspace can reduce shipping distance by up to 75% and reduce carbon emissions by up to 84%. 
"Flowspace ultimately improves efficiency and operations across a business. Their software makes it simple and efficient to manage orders and inventory, with omnichannel visibility across the organization," said Bryan Vaughn, Managing Director of SupplyTech Breakthrough Awards. "The ecommerce market is being driven by consumer preferences for free and/or fast shipping, and expectations for an excellent experience at every touchpoint. In order to meet these expectations, it makes sense for brands to store, and ship close to their customers. Flowspace, our 'Order Fulfillment Solution of the Year' makes this a reality." 
The annual SupplyTech Breakthrough Awards program is conducted by SupplyTech Breakthrough, the leading independent market intelligence organization that evaluates and recognizes standout technology companies, products and services in the supply chain technology and logistics industry around the globe. Its mission is to conduct the industry's most comprehensive analysis and evaluation of the top technology companies, solutions and products in the supply chain and logistics industry today. This year's program attracted more than 1,400 nominations from over 15 different countries throughout the world.
To find out more about how Flowspace's award-winning fulfillment management solution can help you, get in touch.