Flowspace Now Powering Fulfillment for TikTok Shop
Flowspace powers the efficient, reliable fulfillment sellers need to succeed on TikTok Shop, and all other channels of selling.
Directly integrated with TikTok Shop, Flowspace enables sellers to manage inventory and ensure a seamless customer experience, across channels.
Learn More Now
Flowspace by the Numbers
Flowspace is the reliable, efficient fulfillment network helping brands meet their customers' post-purchase expectations in the real world.
Trusted by hundreds of brands nationwide, Flowspace offers a level of flexibility, scale, and service unmatched by others in the industry.
Industry Awards & Recognitions
Flowspace is recognized across the industry as a best-in-class fulfillment partner through a variety of awards, ranging from sustainability, customer service excellence and business growth. Learn more.
OmniFlow Software
Sometimes your supply chain can feel more like a series of broken links. Ensure that your marketing, logistics and customer success flow together with a suite of tools purpose-built for the modern commerce brand.
Operating your own warehouses?

Working with multiple 3PLs?

Struggling to manage multiple logins or view inventory and orders across channels?
No problem. Flowspace Omniflow is a suite of tools that help brands gain visibility, derive insights and plan their network optimally. You can use all of these tools together or access just what you need.
Easily integrate your sales channels and derive insights to improve your operations.
Visibility Suite
85% of shoppers wouldn't shop with a retailer again after having had a poor online delivery experience. Delivering an ideal customer experience is crucial to success.
Don't fly blind – track your open orders across delivery stages with Flowspace.
Maintain visibility through your busy season and beyond with OmniFlow Visibility Suite, now in beta.
Monitor SLA performance across multiple fulfillment partners

Be alerted to delays and late orders

Reduce "WIMO?" inquiries
Learn More About Visibility Suite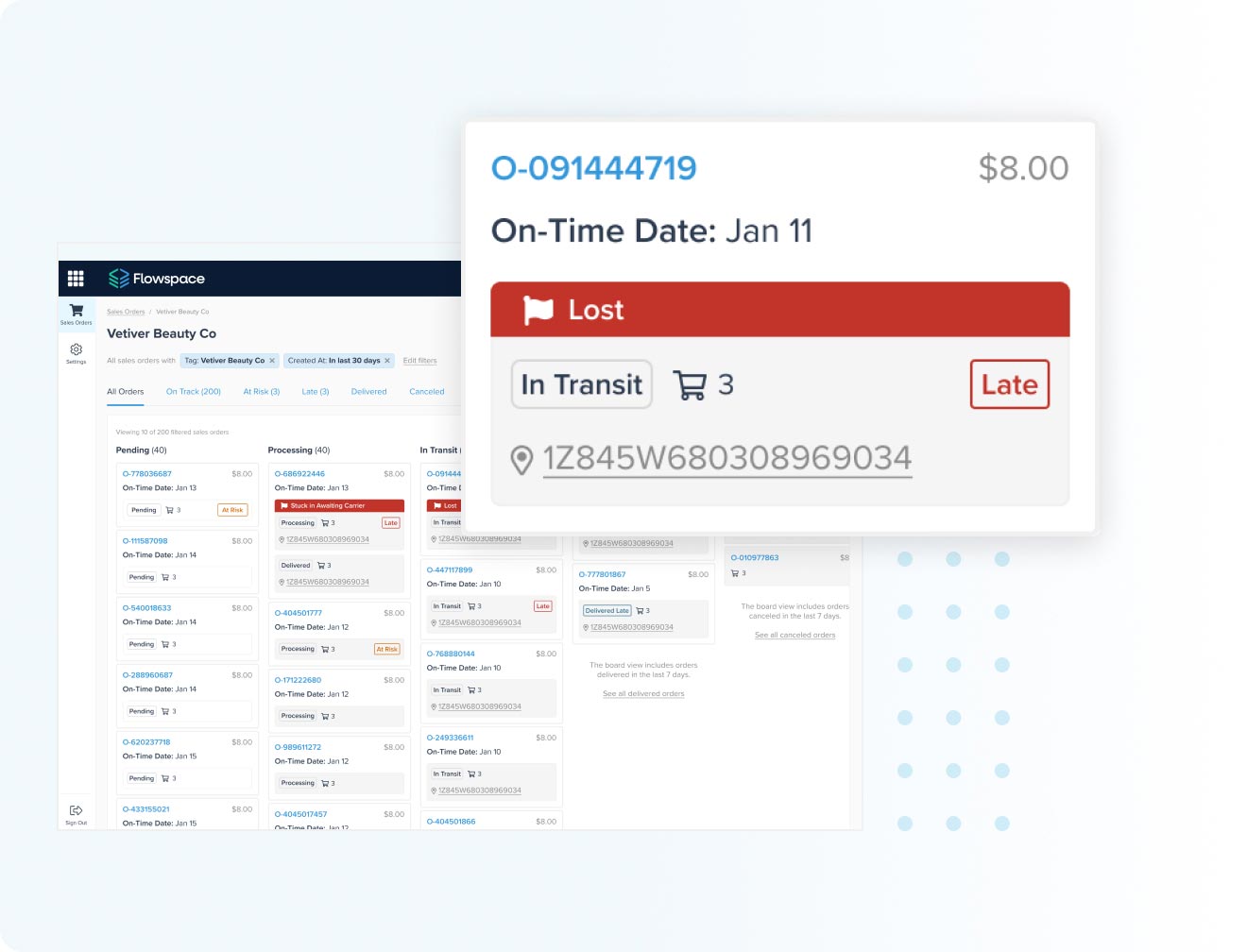 Inventory Management
Determine inventory levels with confidence.
InventoryFlow provides real-time insights and demand forecasting recommendations to help you make smarter inventory management and allocation decisions.
Ensure the optimal stock level to fulfill customer demand, without wasting resources on excess inventory

Avoid out-of-stocks with actionable inventory data that helps you make informed safety stock decisions
Improve facility management, inventory tracking, and visibility that enables you to meet customer service level expectations
Learn More About InventoryFlow
Order Management
With Flowspace OrderFlow, sell where your customers are shopping, and then unify those orders across unlimited channels in one single view. 
Immediate insights about your customer and inventory as you scale

Countless integrations supporting online and in-store fulfillment, helping you grow as you go

Get started quickly and scale during peak seasons without incurring unnecessary costs
Learn More About OrderFlow
Network Optimization
NetworkFlow identifies the optimal fulfillment centers for you.
With a distributed network of hundreds of fulfillment centers, connected by software, Flowspace will determine where to fulfill products closest to your customers, enabling you to offer consistently fast, efficient delivery from every channel. 
Speed up shipping times

Lower transportation costs

Reduce carbon footprint
Learn More About NetworkFlow
The Flexible Flowspace Network
Discover the optimal locations for your brand to enable two-day, one-day, and same-day shipping

Offer the seamless, cost-efficient delivery ecommerce customers expect

with a network of +130 fulfillment locations nationwide

Reduce carbon emissions, energy, and fuel usage with the fulfillment network named 2021 Sustainability Service of the Year
Get a Custom Network Optimization Study
What Makes Flowspace Different?
One platform, one point of integration
Optimal fulfillment locations nationwide
Real-time inventory visibility
Flexible network configurations
Cost-efficient
Award-winning, dedicated U.S. based customer support
Schedule A Demo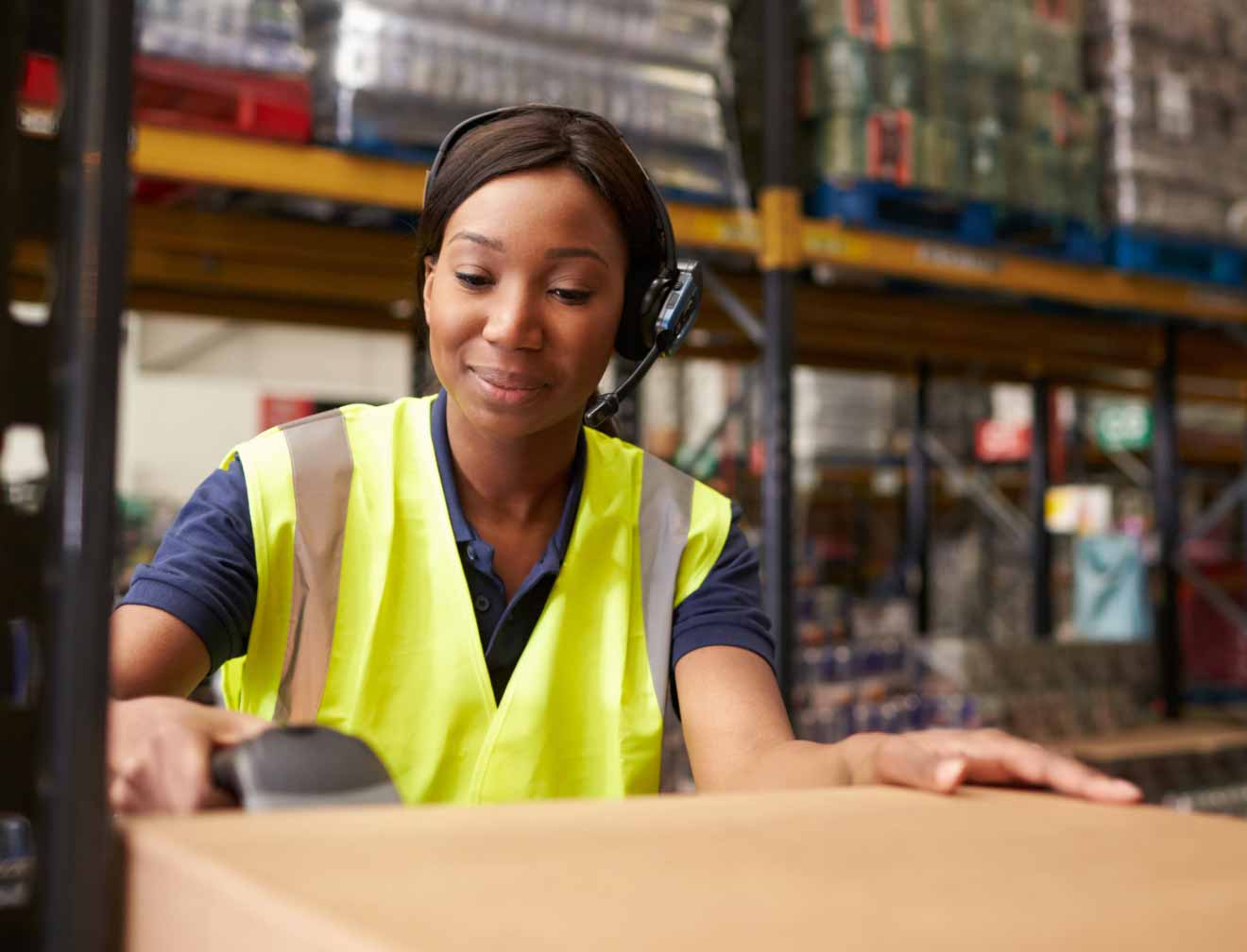 Connect Your Partners to Flowspace
Flowspace's breadth and depth of integrations allow you to bring your partners – whether they're shopping carts, marketplaces, or retail stores – along as you grow.
View All Integrations
Fulfillment Capabilities
Flowspace is equipped to handle any and all fulfillment operation demands, with a variety of logistics network specialties.
Amazon FBA Prep
Container Unloading & Cross-Docking
Direct to Customer Orders
Ecommerce Fulfillment
FDA Registered
GFSI Certified
Item Labeling
Kitting Projects
Pick, Pack, & Ship
Retail Fulfillment
Warehouse Shipping
Wholesale Carton Pick