FDA registered warehouses and logistics for e-commerce brands may be hard to say in one breath, but its important to understand the meaning and requirements, especially if your company aims to sell FDA regulated products directly to consumers in the United State.
Fortunately, this Ultimate Guide to FDA Registered Warehouses for E-Commerce has everything you need to know about FDA regulated products and the facilities necessary to properly store and transport them.
What is an FDA Registered Warehouse?
The role of the Food and Drug Administration (FDA) is to protect the public health by assuring foods, drugs, vaccines, biological products, and medical devices are labeled, sanitary, and safe for human use and/or consumption. The FDA regulates a wide range of products, including:
●  Foods (except for those regulated by the U.S. Department of Agriculture)
●  Human and veterinary drugs
●  Vaccines and other biological products
●  Medical devices intended for human use
●  Radiation-emitting electronic products
●  Cosmetics
●  Dietary supplements
●  Tobacco products
Like the facilities that produce these products, organizations that store, repack, or re-label products in the industries mentioned above must register with the FDA. Therefore, an FDA certified warehouse is any storage facility and/or fulfillment center that has been registered with the FDA and approved to store FDA regulated products.
To retain a FDA fulfillment certification, an organization must agree to and pass an FDA inspection every three years to ensure strict quality standards over their storage, packing, and shipping processes. In order to verify compliance with good manufacturing practice regulations, the FDA has the authority to inspect a registered facility.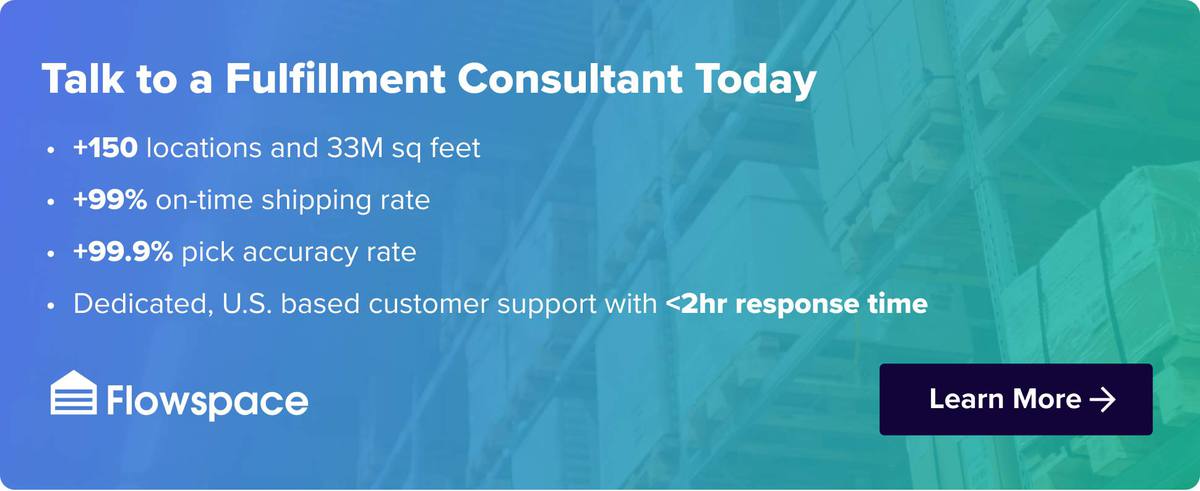 Do I Have to Register My Warehouse With the FDA?
The short answer is… it depends. The FDA's regulatory authority is very broad and covers everything from medicine to microwaves. Unfortunately, the FDA also admits that it is "often frustrating and confusing for consumers determining the appropriate regulatory agency to contact."
So, we included the following list of FDA centers and offices to contact if you need to determine whether you need to register your warehouse with the FDA:
●  Center for Food Safety and Applied Nutrition (CFSAN, includes Cosmetics)
●  Center for Drug Evaluation and Research (CDER)
●  Center for Devices and Radiological Health (CDRH)
●  Center for Biologics Evaluation and Research (CBER)
●  Center for Veterinary Medicine (CVM)
Product Specific FDA Requirements
The four most common types of products that require FDA certification are medical devices, food and beverages, pharmaceutical products, and nutraceutical products (dietary and nutritional supplements).
That being said, the following is a list of traditionally-recognized product categories that fall under FDA's regulatory jurisdiction (this is not an exhaustive list):
●  Packaged Foods (such as dietary supplements, bottled water, food additives, infant formulas, and other food products.)
●  Consumer Products (such as toys, cribs, power tools, cigarette lighters, household chemicals, and other products that pose a fire, electrical, chemical or mechanical hazard.)
●  Cosmetic Products (such as color additives found in makeup and other personal care products, skin moisturizers, cleansers, nail polish, and perfume.)
●  Veterinary Products (such as livestock feeds, pet foods, veterinary drugs, and devices.)
●  Radiation Emitting Electronic Products (such as microwave ovens, x-ray equipment, laser products, ultrasonic therapy equipment, mercury vapor lamps, and sunlamps.)
●  Medical Devices (such as tongue depressors, bedpans, heart pacemakers, dental devices, surgical implants, and prosthetics.)
●  Building Supplies (such as adhesives and paints, varnish, shellac, polish, and lacquer)
●  Prescription drugs and non-prescription drugs
●  Tobacco Products (such as cigarettes, cigarette tobacco, roll-your-own tobacco and smokeless tobacco.)
Specific Requirements for Medical Devices
Medical devices are more highly regulated by the FDA than other products. In order to sell or market a medical device, companies need to register annually with the FDA. The manufacturer must also list their medical devices in the FDA's Registration and Listing database.
FDA registration only indicates that the FDA is aware of the manufacturer and their medical devices. FDA registration does not imply whether the medical device is an effective treatment for the issue the manufacturer intended it for.
Misuse of Certificates and the FDA Logo
Companies cannot use the FDA logo in marketing their products without the FDA's authorization. The logo is for FDA purposes only and using it without permission suggests that the FDA endorses the product or organization which violates FDA policy.
The use of FDA certificates to imply FDA approval is also prohibited. For example, some companies may try to sell a medical device by displaying an FDA registration certificate with it. Since the FDA does not issue device registration certificates, this would be misleading consumers to believe their product has FDA approval.
Are Flowspace 3PLs FDA Registered?
Third-party logistics providers can gain FDA approval, but not all FDA registered 3PLs or fulfillment locations are equal. Unless your fulfillment partner or 3PL is experienced in handling specific FDA-monitored products, there's no guarantee that FDA registration is even on their radar.
If you're looking for a fulfillment partner that goes above and beyond the bare minimum required by the FDA, Flowspace offers an expansive network of FDA compliant locations.
Flowspace is proud to power the leading independent Food & Beverage fulfillment network in the US. Flowspace's network offers FDA-compliant storage and direct-to-consumer (DTC) fulfillment solutions to top food, beverage, and other FDA-monitored companies.
Flowspace: Safe, Sanitary, and Secure
Flowspace offers a full range of services for food, beverage, and other FDA regulated products  looking to improve quality and compliance across their supply chain. With a distributed, connected network of warehouses and fulfillment centers, Flowspace is uniquely suited to store, process, and ship all of your FDA regulated products.
Flowspace offers a suite of solutions to help you grow your business; manage your warehouse and ensure FDA-level quality control at every step in your supply chain, including:
●  Special Handling
●  Tracking and Monitoring
●  Lot Tracking Reporting for Perishables
●  Refrigerated, Temp Controlled, Ambient
●  State-of-the-art Security
The Flowspace Network Advantage
The Flowspace network, encompassing more than 130 warehouses and fulfillment centers nationwide, includes numerous dedicated, FDA registered and compliant locations equipped to handle multiple product categories. Each is optimized to ensure the safety, security, and compliance of product storage and fulfillment. To maintain its FDA registered classification, Flowspace partners with a subset of highly-qualified third-party logistics providers to serve the needs of your highly regulated industries.
That's why so many e-commerce brands choose to work with Flowspace. Flowspace has the connected network, integrated software, and compliance certifications necessary to keep specialty products moving across the supply chain and delivered to your customer's door. Contact us today to get started.