Congratulations on your new ecommerce business. Now that you're up and running,  it's time to consider the order management process, from inventory storage, to packaging the products, to shipping items to the customer. That's where ecommerce fulfillment comes in.
Don't worry. Ecommerce fulfillment isn't nearly as complicated or as challenging as it sounds and you don't have to be a logistics expert to get started. All you need is determination and this beginner's guide to eCommerce order fulfillment.
What is Ecommerce Order Fulfillment?
Ecommerce order fulfillment is the process in which online orders are picked from the shelves, packed into boxes, and shipped to the final customer. The ecommerce fulfillment operation consists of six basic components:
Inventory Management – The process of ordering, storing, and utilizing a company's raw materials, components, and finished products. 
Warehousing and Storage – The process of storing goods in a warehouse for later use. 
Receiving – The process of obtaining raw materials and inventory.
Pick & Pack – The

process of gathering individual inventory items from shelves in

a

fulfillment center

and packaging them for shipment.

Shipping – The process of transporting items from the warehouse to the end customer.
Returns – The

process of transporting items from the warehouse

or

fulfillment center

to the end customer.
Generally speaking, there are three different ecommerce fulfillment options available for online business order processing; in-house fulfillment, dropshipping, and third party logistics (3PL). Each has its advantages and disadvantages, which are simple enough to comprehend. 
The tricky part is determining which ecommerce order fulfillment strategy is right for your business. It all depends on your business strategy.
How to Choose a Fulfillment Strategy 
The best ecommerce fulfillment plan for your business depends on a myriad of factors, like where your suppliers are relative to your customers, or if you ship more than 100 orders per month. In any case, you can't make a decision unless you fully understand the choices available to you.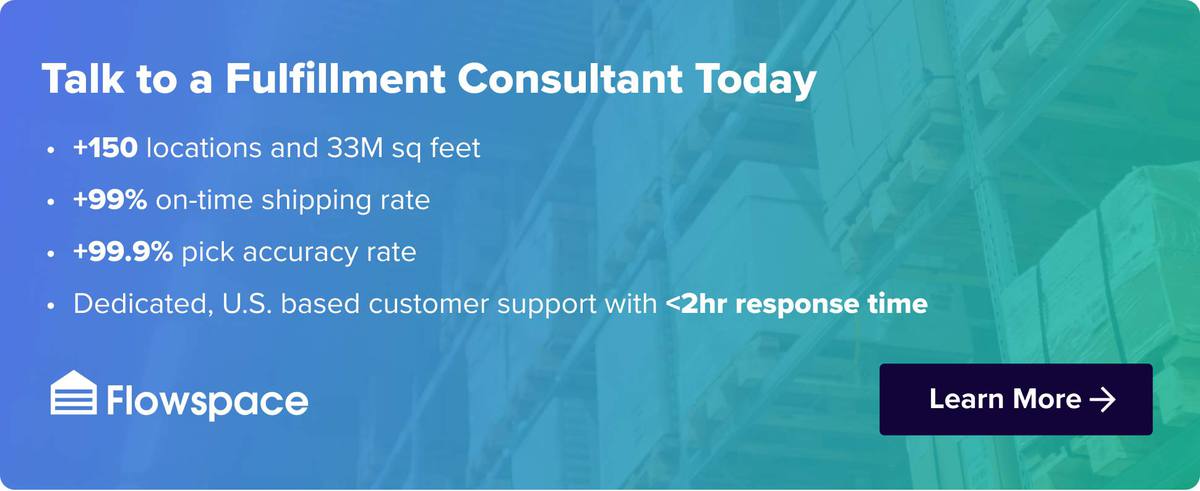 In-House Ecommerce Order Fulfillment
In-house, or in-store order fulfillment is exactly what it sounds like – when a business conducts the order fulfillment process via its own facilities, labor and assets, and without the aid of a third party fulfillment provider.
Whether or not in-house ecommerce fulfillment is the right strategy for your business model depends on your inventory volume. If your operation is small (less than 100 items/month), then in-house order fulfillment is likely the best option for your business.
In-house strategies are a popular choice for an ecommerce retailer who sell on Etsy and other C2C platforms, as most do not have the inventory volume or the capital needed to invest in their own warehouse, labor, and equipment. 
In-House Ecommerce Fulfillment: Advantages
Easiest to implement – production can often begin without the need to hire employees or outsource tasks.
Lowest startup costs – Storage, inventory management, and other costs are kept relatively low and at a smaller scale compared to outsourced warehousing and fulfillment services.
Custom packaging – Fulfilling orders yourself means full creative control when choosing personal touches reflective of the brand, such as gift messaging, brand packaging, and other unique forms of personalization for customers.
Control over the entire fulfillment process – Complete oversight of the fulfillment process from start to finish allowing for full quality control and packing customer orders with extra personal touches.
In-House Ecommerce Fulfillment: Disadvantages
Impossible to scale
Time-consuming
Limited storage space
Limited labor
No shipping discounts
Dropshipping
Dropshipping is an order fulfillment strategy wherein orders from your ecommerce platform are forwarded from your website to your supplier who picks, packs, and ships the order directly to your customer on behalf of your business.
At no point does the retailer have to purchase, store, pick, pack, or ship their inventory. All they have to do is sit back and relax while their manufacturer takes care of the entire fulfillment process. 
Dropshipping: Advantages
Lower startup costs – Purchasing products isn't required until a sale is made and paid for by a customer, which means there aren't significant upfront inventory investments for e-commerce businesses. 
Lower cost of inventory – Opportunity to list products before committing to buying a large amount of inventory and selling as items become available and customer demand continues.
Lower

order

fulfillment cost

– Since

this method doesn't involve handling physical products, ecommerce companies don't have to account for the packing and

shipping cost

, paying warehouse fees, or handling inbound shipments.

Easy to update inventory – Access to an endless variety of products to sell to adapt to trending and/or popular products among customers.
Only pay for what you sell – Limits out-of-pocket expenses and removes overhead costs by supplying products customers have already purchased.
Dropshipping: Disadvantages
No control over shipping and handling
Reliant on supplier stock and customer service
No bulk pricing
Lower profit margins
Shorter lead times
Third Party Logistics (3PL)
What is a 3PL? Third-party logistics is a fulfillment model available to ecommerce businesses in need of supply chain management. In other words, a 3PL is a fulfillment service you hire to manage the various functions of your supply chain, such as:
Sourcing transportation
Inventory storage and management
Freight forwarding
Shipping/receiving and distribution
Customs brokerage
Cross-docking
Picking and packing
Outsourcing to a 3PL is beneficial to ecommerce retailers who lack the resources to store, pack, and ship inventory themselves. By outsourcing the entire fulfillment process, you don't just free up time and resources, you enable your team to focus on things like marketing and business development. You also leverage the 3PL's buying power, data insights, value-added tools, shipping network, and industry expertise to your advantage.
Though taking on an in-house ecommerce order fulfillment service seems like the more cost-effective solution, as a business grows, the sustainability of best practices is harder to achieve. As a result, the customer experience often suffers, and it ends up costing more in the long run with regards to revenue, customer loyalty, and brand reputation. With a 3PL, it's like having your own in-house fulfillment team without the associated fulfillment cost or other costs and headache of managing it yourself.
Third Party Logistics (3PL): Advantages
Leverage industry expertise – Benefit from a skilled team well-versed in warehousing to fulfill and ship orders versus hiring a staff of individuals which requires onboarding, training, and continuous quality assurance maintenance and oversight. 
Reduced operating costs – Avoid long-term leases and adjust costs according to high buying times and/or slow sales cycles. Many 3PL companies offer flexible pricing to adapt to each company's specific warehouse needs.
Larger network of providers – With

fulfillment warehouses spread out, 3PL companies can choose which is closest to your customer base to meet delivery expectations and reduce any

shipping cost

.

Greater buying power – 3PLs create established supplier relationships and work within large, trusted networks to secure cost-effective solutions for their customers.
Optimized shipping, handling and returns – Fulfill a holistic customer service experience through fast, affordable delivery with tracking visibility throughout the entire process.
Improved data insights – Review inventory and customer insights to enable data-driven decisions which create more accurate forecasting and a continuous flow of fulfillment and delivery without stockout or overstock concerns.
Easy to scale – Works with a company's growth model to provide services during expansion to different markets or geographical regions.
Third Party Logistics (3PL): Disadvantages
Many 3PLs to choose from, not all of them good 
Relinquish some control over shipping, customer service and returns
Supply chain reliant on third-party vendors
How to Choose an Ecommerce Fulfillment Provider
Now that you know the fulfillment service options that are available, it's time to determine which one is the best choice for your ecommerce business model. It's common for ecommerce companies to start with in-house order fulfillment and evolve to a 3PL model to effectively scale. 
It depends on the size and growth of the company, as smaller-scale fulfillment operations may not require 3PL assistance, and those operating on a larger scale may quickly become overwhelmed with in-house fulfillment. There are a few tell-tale signs it may be time to partner with a 3PL company, such as: 
Fluctuating sales cycles
When ecommerce companies experience growth but uneven or cyclical sales, committing to leasing and staffing a warehouse can lead to unused/wasted costs; a 3PL provider can adapt to seasonal needs, as well as unexpected sales spikes and possible slumps, without compromising the consistency of the fulfillment process.
Business hits a standstill 
In-house ecommerce order fulfillment allows for full oversight but without the delegation or time to focus on business growth. As a consequence, customer expectations and satisfaction can start to decline, and sales could become stagnant. When approaching the next stage of growth, it makes sense to work with an expert logistics provider to help with the entire fulfillment process from start to finish.
Expanded customer base
Shipping to various locations across the country or worldwide quickly increases shipping costs and creates delivery challenges. Expanding the customer base to a wider network benefits from a fulfillment solution that has centers spread out and can optimize fulfillment accordingly. That's where Flowspace comes in. 
Simplifying the fulfillment process through Flowspace
Different from traditional fulfillment providers, Flowspace couples powerful software with its national fulfillment network to enable brands to offer consistently fast, efficient delivery from every channel. The Flowspace platform centralizes omnichannel  order fulfillment management in one dashboard, providing the visibility and insights needed to optimize the fulfillment operation. 
Order management – Seamlessly integrates all online shopping channels to view inventory levels and manage items conveniently with just a few clicks.

Inventory planning – Provides an overview of product inventory management necessary to prevent stockouts and overflows and create predictive analysis to forecast accurate inventory fulfillment.

Network optimization – Uses an algorithm that chooses the distribution network closest to customers to speed up shipping times, reduce costs, and improve customer satisfaction.

Real-time visibility – Offers instant, real-time access to all integrated channels and delivers automated alerts and predictive views of stock availability.

Customer insights – Leverages customer data ecommerce businesses can use to evaluate product trends and customer buying behavior, thereby optimizing the entire supply chain. 

Customization – Handles custom branded packaging for companies that want to make a statement with their shipments. Today's ecommerce experiences are rooted in customization to fulfill individual preferences and curate an experience that will delight customers.

Real-time customer support – Helps customers with any issues and integrates all channels to support customer questions and needs with real-time information.
At Flowspace, we handle all aspects of the fulfillment process for ecommerce businesses and streamline logistics through advanced technology and omnichannel integration. As the source for useful, reliable information on fulfillment, on-demand warehousing, and third-party logistics, we are the fulfillment company dedicated to providing a comprehensive solution designed to optimize business growth. 
Want to learn more about how to find ecommerce success by outsourcing your ecommerce fulfillment?